Bright Freedom's Song
For teaching materials for this novel, please send an email request to: authorhouston24@gmail.com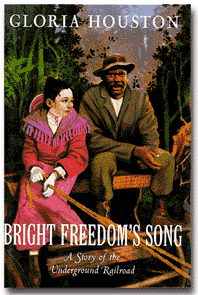 Bright Cameron has always been taught that freedom is a person's most precious right. After all, Papa came to America as a poor indentured worker from Scotland and he toiled for years until his friend Marcus, a slave, helped him to freedom. But for Bright, slavery has always been something she has only heard about. Then she discovers that Mama and Papa are hiding runaway slaves in a hidden compartment of Papa's wagon and boarding them in the barn. Soon Bright, too, becomes involved in her family's secret world. One night, when Papa falls ill, Bright discovers how dear freedom truly is--and what price it exacts from those who must struggle for it.

Review:

From School Library Journal
Grade 5-8-At the age of six, Bright Cameron sees what she believes is a "devil" in the hen house. This devil turns out to be Marcus, an escaped slave who is her father's friend. As the girl grows up, she is introduced to her parents' secret work: helping the runaway slaves who arrive at their North Carolina smithy travel through the Appalachian Mountains. Bright's father, who was kidnapped and brought to America as an indentured servant, feels strongly about helping others to freedom. As the Civil War approaches, the "bundles" appear with more regularity. When she is 15, Bright's father falls ill, and she and Marcus take off to make a delivery to a nearby farm. This event opens the novel and captures readers' attention. The story then backtracks to Bright's first encounter with Marcus and follows her emotional growth and understanding of the complex issues of slavery and her courageous conviction to help. Focusing on the daily routine of a family involved in the Underground Railroad, this book offers a glimpse into the danger of their situation. Though Bright's mother and Marcus are flat characters that serve to drive the plot, Bright is well drawn as a dedicated daughter and tough young woman and her father as a man who is driven to help others. Readable and well-researched historical fiction.
Angela J. Reynolds, West Slope Community Library, Portland, OR
Copyright 1998 Reed Business Information, Inc.