My Great Aunt Arizona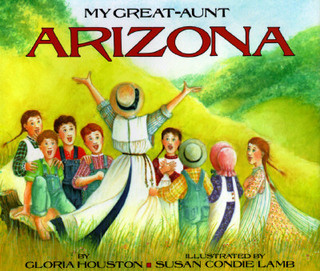 From Publishers Weekly:

The author of The Year of the Perfect Christmas Tree and Littlejim again demonstrates her skill as a graceful, affecting storyteller. In spare yet stirring prose, she recounts the life of her great-aunt Arizona, who "was born in a log cabin her papa built... in the Blue Ridge Mountains." Arizona and her younger brother attended a one-room school, helped tap the maple trees in spring and "caught tadpoles in the creek." Later, she went away to school, and returned to teach in the same schoolhouse where she herself learned. For 57 years, Arizona hugged her students, and "taught them words and numbers, and about the faraway places they would visit someday." Lamb's bustling paintings--with glowing characters straight out of Laura Ingalls Wilder--convey the timeless beauty of the region, as well as Arizona's warmth and charisma. Though her great-aunt died at the age of 93, Houston concludes that she "travels with me and with those of us whose lives she touched.... She goes with us in our minds." Readers will be among the many touched by this very special relative. Ages 6-9. (Copyright 1991 Reed Business Information, Inc.)

From School Library Journal:

Grade 1-3-- Arizona, a child of the Blue Ridge, is named by her older brother, a cavalryman out West. As she grows up, she longs to visit the faraway places she learns about, but life doesn't offer her those opportunities. Her mother dies and she takes on family responsibilities. Still she becomes a teacher in spite of the obstacles in her path. For 57 years, she teaches generation after generation of students in her one-room schoolhouse, describing for them the wonders of the larger world that she herself has never seen and inspiring in them the satisfaction of learning. Even after her death she still walks with those whose lives she has touched. The text is superimposed over Lamb's full-page paintings. The pictures reflect an idyllic world of light-filled joy and simplicity. Roads, fences, and houses all fit into the landscape of woods and hills as though placed there by nature rather than by human hands. Arizona ages from a baby to a woman in her 90s gracefully and unaffectedly, keeping her high-button shoes and her aprons. The continuity of her life seems to flow from Lamb's brushes, filled with light and color, and her connection to the future is beautifully expressed in the painting of the road curving out of sight into the misty forest. Thanks to Houston and Lamb, readers can still enjoy Arizona's optimism and determination.
--Ruth Semrau, Lovejoy School, Allen, TX.
(Copyright 1992 Reed Business Information, Inc.)
From Kirkus Reviews:
Echoing Barbara Cooney's fictionalized picture-book biographies of strong, independent women whose stories both challenged and exemplified their times (
Miss Rumphius,
1982;
Hattie and the Wild Waves,
1990), Houston (her
The Year of the Perfect Christmas Tree,
1988, was illustrated by Cooney) recounts the story of a great-aunt who spent her entire life in rural North Carolina. Though she dropped out of school to care for the family when her mother died, Arizona was eventually able to fulfill her ambition of becoming a teacher, returning to the one-room school she had attended, marrying, and bringing her own children to school with her but never going to the "faraway places" she visited only "in my mind." Arizona doesn't have Hattie's individuality or Miss Rumphius's vision, and her story has less energy and unique flavor than either of theirs; still, Houston's simple narrative is warm and exceptionally graceful and clean, while Lamb's settings (which seem to be in watercolor plus color pencil) are well researched. Her impressionistic outdoor scenes are especially attractive; figures are less expert if lively -- the young Arizona reading with high-button shoes aloft, or dancing with skirts aswirl above the knee, are engaging bits of poetic license. A nostalgic but appealing portrait of another generation. Picture book. 5-9. (Copyright ©1992, Kirkus Associates, LP. All rights reserved.)
Review:
"A lyrical tribute...a thoroughly heartwarming tale!"
--Childhood Education