Littlejim
Portions included on the NC End of Grade Test for eighth grade. For teaching materials for this book, please send an email to authorhouston24@gmail.com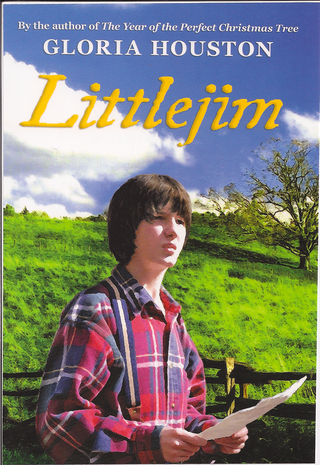 From Publishers Weekly:

Based on the author's family history, this novel set in rural North Carolina during the early 1900s traces a 12-year-old boy's struggle to prove his worth. As a top scholar and excellent writer, Littlejim Houston is admired in his small community by everyone except his rugged, practical-minded father. Littlejim hopes to gain Bigjim's respect by winning a local writing contest. But the assigned topic, "What it means to be an American," remains problematic until Littlejim receives inspiration from an Irish-born friend who works at Uncle Bob's sawmill. Although the protagonist's final triumphs are fairly predictable and themes of patriotism are perhaps overdrawn, the unfolding of the story's events is suspenseful and engaging. Through clear, unembellished prose, Houston (The Year of the Perfect Christmas Tree) describes day-to-day life on a farm, reveals Littlejim's growth toward manhood and conveys the love that lies beneath his father's gruff exterior. This book succeeds in
capturing the spirit of immigrant Americans who overcame obstacles to accomplish their dreams. Ages 8-12. (Copyright 1990 Reed Business Information, Inc.)

From School Library Journal:
Grade 4-8-- Littlejim Houston, 12, lives with his father, Bigjim; his German-born mother; and two younger sisters in rural North Carolina during World War I. Bigjim, a dour Freewill Baptist, is the best lumberman and athlete in the area. Littlejim excels at schoolwork, writing, and carving, activities that his father doesn't understand or appreciate. While Littlejim works hard at the sawmill and on their farm, he cannot please his father. When an essay contest on "What it means to be an American" is announced, with the winning entry to be published in the Kansas City Star, Littlejim enters in hopes of at last impressing his father. Houston enriches her story with vivid descriptions of rural life, manners, and values, while Allen's pencil drawings elaborate upon these themes. The people who surround and support Littlejim are lovingly depicted, even as readers understand that Bigjim's respect and love is somehow more important to Littlejim than they are. Like Lowry's Rabble Sta
rkey (Houghton, 1987), this novel concerns itself with growth and the role writing can play in it. Like Hamilton's M. C. Higgins, the Great (Macmillan, 1974) and the Cleavers' Where the Lilies Bloom (Lippincott, 1969), it also increases readers' understanding of the Appalachian region and its people.
--Barbara Chatton, College of Education, University of Wyoming, Laramie
(Copyright 1991 Reed Business Information, Inc.)