Content for Events
You may pre-order or have the book with the celebration seal, signed by Ruthie, from this webpage or at authorhouston24@gmail.com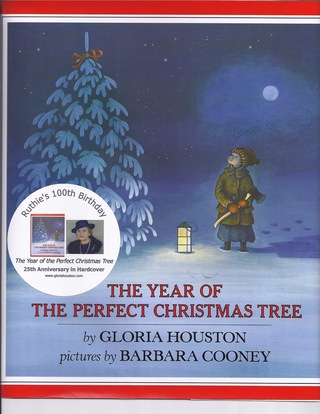 Labor Day, 2013: Celebration and booksigning at the Orchard at Altapass (altapassorchard.org) with the real person who is Ruthie in THE YEAR OF THE PERFECT CHRISTMAS TREE. Ruthie will also sign the hardcover of the special edition celebrating her forthcoming 100th birthday and the 25th year of the book in hardcover.
This is Gloria's only booksigning for the summer and the only one in which Ruthie will participate. Other books will be available.
June 14/15-- Avery County Public Schools student workshops. TBA, writing workshop for students using HOW WRITING WORKS techniques, tested on 3 1/2 million elementary students, by registration.
24 June The Orchard on the Blue Ridge Parkway, Altapass, NC booksigning with the Celtic Fiddlers--12:30 to ???? Visit www.altapaassorchard.com for more details.
12-15 July--The Grandfather Mountain Highland Games, McRae Meadows, Grandfather Mountain, NC. Visit www.ghmg.com for more information.
19-20 July--The Golden Glow of Christmas Past national conference, the Crowne Plaza Hotel, Asheville, NC, luncheon speaker, by registration only.
throughout the 2012-2013 academic year: writing and curriculum to Avery County, NC Schools
Watch for other appearances.
If you would like to have a speech, workshop or booksigning with Gloria Houston, please email her office at: authorhouston24@gmail.com. She is available with accommodations for which instructions are provided. She enjoys hearing from you.