The Year of the Perfect Christmas Tree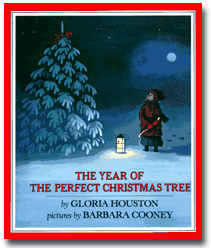 From Publishers Weekly:

The Armistice has been declared, but still there is no sign of Ruthie's father in their little Appalachian town. So, in accordance with the traditions of Pine Grove, it falls to Ruthie and her mother to bring home the perfect Christmas tree to donate to the town. Ruthie had accompanied her father to the rocky cliff where he marked a tree in the spring, so she and her mother set out to find it again, and haul it home. Their trip becomes the basis -- overnight -- of a new town legend; Ruthie, chosen for the role of the heavenly angel in the the church Christmas play, finds herself outfitted in a made-over wedding dress of the finest silk -- another "miracle" wrought by her hardworking mother. An accomplished, fluid telling garnishes this simple story, as do Cooney's moonlit paintings of wintry evenings and the welcoming glow of fire and lanterns. Ruthie is more or less an observer; her mother is the real heroine. But the way they work together to keep their family's duty is rendered in a harmonious blending of text and pictures.

Copyright 1988 Reed Business Information, Inc.

Acclaimed author Gloria Houston has written a tale that is as joyful and timeless as Christmas itself. Jewel-like paintings by two-time Caldecott Medal winner Barbara Cooney capture all of the season's warmth and mountain flavor. "A heartwarming holiday story, simply told and graced with true sentiment rather than sentimentality."--Kirkus Reviews. Publisher's Weekly Bestseller. Booklist Best Books of the Decade. Full color.